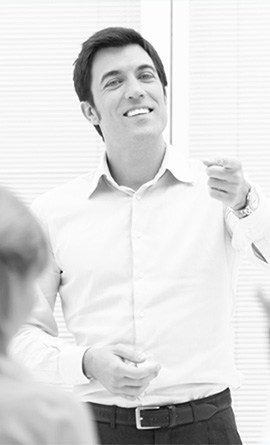 A Leadership Mandate
Leaders are busier than ever today. And yet, they are the single biggest factor in their organization's level of engagement, financial performance, and long-term sustainability.
With Leadership Choice, creating better leaders has never been easier. Our accelerated development approach supports today's highly conscientious organization in their efforts to develop managers and leaders able to achieve results that far exceed the norm.
Partnerships that Deliver Results
We work closely with our clients to deliver effective and pragmatic training for their employees no matter where they sit—corporate headquarters, regional offices, retail locations, or even home offices. Based on any organizational footprint and our flexible delivery options, we believe we're uniquely qualified to address the challenges inherent to distributed organizations, diverse learning populations, and more/less access to technology.
We help each of our clients create a sustainable talent pipeline—one where internal promotions have the strongest support to become world-class leaders. Together, we embrace the idea that an organization's people are the single biggest factor in employee and client engagement, financial performance, and long-term sustainability. And together, we create good leaders and deliver unprecedented results.
Better Leaders Deliver
When organizations have good leaders, they realize:
A 48% increase in profitability
A 22% increase in productivity
A 20% increase in employee engagement
A 17% increase in customer engagement scores
A 19% decrease in turnover (Gallup, 2015)
Better leaders also are more engaged than their peers. They proactively evangelize their organizations' brands across their communities, including family and friends. They emphasize the strengths of those around them and contribute more to the overall well-being of their organizations.