Breakthrough Training Programs, Positive Impact

Turn your people, teams, and leadership into more effective communicators and get higher collaboration, innovation, and efficiency.

Turn your managers into day-to-day, on-the-job coaches and strengthen your organization as you go.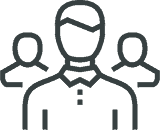 Turn your senior team into high-trust, high-performing leaders to unleash your organization's full potential.
Ideas for Developing Teams and Leaders
The best organizations create sustainable leadership at all levels–not just at the top. Individuals, team leaders, first-time managers, technical team leads, senior leaders, executives and boards want to be effective. Since great leaders aren't always born, here's our latest thinking on how they can be developed.  More insights & articles >
Stronger leadership at every level delivers amazing results. A greater focus on basic leadership skills will get you there: people skills, inspiring trust and confidence, communicating more effectively, coaching for performance.
Our award-winning approach can do for you what it has done for hundreds of other teams and organizations.