Choose the Right Virtual Management Training Company
Business efficiency is all about maximizing team performance while minimizing business costs. With that goal in mind, it's no wonder so many companies are making the switch to virtual training for management development.
Making this switch not only makes leaders more effective than ever within their organizations, but completing the training program virtually means there are no travel costs, no lost productivity from spending time away from work, and big gains across teams spread over different states that can now collaborate in training without moving from their office chairs.
Even though virtual training is becoming increasingly popular, not all virtual learning programs are created equally.
Can you spot the fakes?
More and more leadership development companies have jumped onto the virtual training bandwagon, but not all of them have gotten it right.
As the buzz over virtual learning has increased in the education and training industries, leadership training and coaching businesses have responded in a few different ways:
THE TRENDSETTERS
Some providers have been desperate to prove that their company was the most technologically advanced and innovative of all, and patched together some videos and spreadsheets, then called themselves "ahead of the curve."
 THE OPPORTUNISTS
Some management training and coaching companies saw the potential in virtual training as a way to scale their client base and product while minimizing actual effort on their end because they (wrongly) believed that virtual management training meant you could cut out the human element—trainers, experts, and coaches.
 THE FOLLOWERS
Others accepted the change begrudgingly, even if they didn't quite understand virtual business training, and began putting together feeble online training options because they wanted to at least feel like they were trying to keep up.
I'm no David Lee Roth
In high school and university, I was never the kid to jump on board with the latest trend. In fact, I was way more likely to be in the library studying (the psychology of change management in organizations, right?) than rocking a mane of headbanger-worthy hair at the latest Van Halen concert.
So when I heard the industry urgings to make the switch to virtual learning in order to stay relevant, I wasn't about to hastily throw something together so we could be one of the coolest, most technologically savvy leadership development companies.
If we were going to offer a virtual management training solution, it was going to be for the right reasons and we were going to do it in the best way possible.
Three Tips I'd Give to My Closest Friends
Because of my background in organizational psychology, my first step to deciding how to step into virtual management training was to settle in with some good, hearty research.
Online or virtual management training approaches, I quickly discovered, were not all created equally, and the choice between great versus not so great programs was the difference between 20-30% retention and 80-90+% retention with solid long-term application.
So what set apart the bad programs from the good?
1 – Look for Real People Connecting With People
First and foremost, the most effective training still utilizes live facilitators in a group-learning environment. One of the biggest gaps between successful and unsuccessful training occurs when participants are removed from a situation in which they can interact with their peers.
Utilizing live instructors in a group learning environment means the training program, despite being virtual, still has the capability to be interactive (as opposed to a single participant watching a training video on his or her own).
In the best virtual management training programs, these facilitators create a participative environment in which the entire group takes part in discussions, not only applying the learning to their own personal situation but also hearing how others apply that learning to their unique situations as well. Since people are social creatures tuned to crave other people's stories, these discussions strengthen retention by providing multiple perspectives of the same piece of information in application.
It also creates an environment in which questions and comments can be addressed in real-time by experts, enhancing the information learned as opposed to creating a speed bump or wall that would stint the retention of information if the participants were instead left to wonder or research separately on their own.
Stay in Touch
Receive monthly insights & articles from our leadership development experts.
What does it look like?
At Leadership Choice, we utilize an online classroom environment that allows two of our top leadership coaches to host live-virtual training events with a group of participants. This functions basically as a virtual classroom (without travel costs, catering bills, or room rentals).
Participants are able to take an active role in the class, with full audio discussion capabilities, chat, polls, and more.
2 – There's Nothing Wrong With Needing Alone Time
While a great amount of learning is capable of taking place in a virtual group-learning environment, the best virtual management training programs also use a mixed learning approach that included interactive self-study as part of the virtual learning program.
This can take many forms, but in the most effective virtual management training programs it includes presenting information in a clear, interesting and effective manner, then guiding application of the material to the participant's particular leadership situation.
The reason this mixed learning is important is because the best business training programs appeal to each different communication pattern. Each person learns a little differently, and a great training program takes that opportunity to present information in multiple different ways in order to cover every base. If this is done in a clear, concise, and interesting way, it will benefit every learner regardless of communication pattern since it allows them to learn the information using multiple different methods, ultimately strengthening their retention and on-the-job application.
Interactive self-study, if designed properly, augments the virtual classroom environment by providing the participant with background information that strengthens the base upon which the rest of the knowledge can be applied. Studies show than when a person is introduced to basic information, given time to apply that information to their personal situation (if possible), then compounds that learning with an interactive group learning environment and the personalized guidance of an expert, their retention and real-life application significantly increases (to the tune of 300%).
What does it look like?
Leadership Choice augments virtual classroom training sessions by introducing an interactive workbook at the beginning of each learning module. This workbook supplies basic information about each concept to participants before they take part in the virtual classroom environment. By having this base of information and by having completed the exercises that guide participants to apply new information to their personal work situations, it maximizes the impact of the group-learning environment, participants are able to use the virtual classrooms as an opportunity to expand knowledge in a meaningful way that maximizes retention and long-term application.
These interactive workbooks are downloadable and use multiple medias and self-application capabilities to maximize learning.
3 – Take it Personally
Finally, one of the most important aspects of a successful virtual management training program is the capability to personalize the information being learned. This isn't to say that every training module should be rewritten to suit each organization, but there should be a strategy in place that makes the content, goals and outcomes applicable to the organization and the participant.
The reasoning behind this is threefold:
It increases retention. If the information is personally applicable, the participant is more likely to retain the information long-term and to apply it in a real-life setting. One of the major drawbacks of any training program, virtual or classroom is that if a participant can't see how the information is going to immediately affect him or her, they're likely to dismiss the information.
The most successful training programs systematically relate each piece of new information to participants (or better, give the participants the capability, knoweldge, and guidance to do it themselves) so they can more easily see how the skillsets or mindsets directly apply to or affect them.
New strategies can be more effectively applied in alignment with company goals. The best virtual training companies aren't one-size-fits all. They take into consideration an organization's goals and help each team member use new skills to apply new mindsets and skillsets to achieve these goals.
For instance, learning to delegate effectively to generally elevate a team's performance is one thing; delegating to elevate a customer service team's performance in the trial run of a new SAAS product to better strategize how to efficiently roll out the product (and future products) to the rest of your clients is another thing.
This approach creates measurable business results. Instead of a training program that gives you the list of topics that it will cover, an effective training program will work with the organization and leaders to develop goals for training and for post-training continuation of development. This will typically include an initial meeting with the organization and leaders, follow-up with the participant throughout training to ensure goals are on track as well as to give the participant any resources or additional information/support needed to achieve these goals, and long-term development plans post-training that ensure new skills can be measured and will be applied post-training in ways that best help achieve the organization's goals.
What does it look like?
Perhaps the trickiest—though most important—aspect of effective training programs, Leadership Choice achieves this piece of the virtual learning trifecta by assigning each participant to a personal leadership coach. Since these coaching sessions are held virtually, the coaching doesn't add a significant cost to the organization, but add significant success to each participant's completion of the program.
Vet Your Leadership Development Company–It's Worth It!
Studies show than when a person is introduced to basic information, given time to apply that information to their personal situation (if possible), then compounds that learning with an interactive group learning environment and the personalized guidance of an expert, their retention and real-life application significantly increases (to the tune of 300%).
Pat Bosworth
Founder and CEO
Patrick effectively coaches leaders at all levels and across a number of industries with a pragmatic, consultative approach. Previously, he was vice president with Right Management and held other senior OD and development positions in manufacturing and the professional services Industries. He holds an M.S. in Industrial/Organizational Psychology from Lamar University.
Stay current on your favorite topics
Article – Leadership Development Insights
by Patrick Bosworth The "flipped learning" concept has broken into the leadership development and management training industry, but what exactly is "flipped learning" and what does an effective flipped classroom environment look like? In a...
read more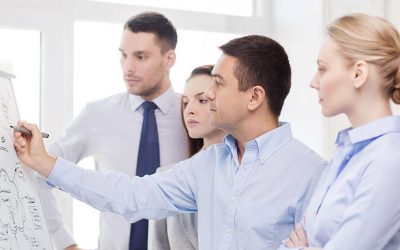 The Flipped Classroom Model & Why It's Important in Long-Term Success by Patrick Bosworth Are You Dooming your Employee Development to Failure? The Flipped Classroom Model & Why it's Important in Long-Term Success More and more...
While studies show most HR professionals and executives are dissatisfied with their current performance management system, the solution may not be as simple as eliminating performance reviews.