Good Leadership Isn't Accidental
Conscious, deliberate approaches appear to deliver best
Want better leadership? Our recent study reveals a path for consciously and deliberately moving any leader from bad to good, then good to great.
It's simple.
Introduction
We have repeatedly heard that good leaders out-produce their less able peers by 20-50 percent in profitability, productivity, employee engagement, customer engagement, and employee retention.
While the question "How much, and in what ways, does good leadership affect the performance of organizations versus poor leadership," has already been answered in multiple studies—the most notable of which being Gallup, 2015—we sought to study if and how good leadership can be created within organizations.
Key Findings: Myths, Truths, & Opportunities
Leaders, on average, are rated a 70% quality score by their organizations.
That's about a "C" letter grade.
Leading By Example (a.k.a Organic Leadership) is a Myth
At least on any scale. The low average quality ratings of leadership in most organizations with little or no leadership development efforts leads to the conclusion that "learning by example" will underperform and under deliver for most organizations.
To achieve a leadership quality rating of 83% or higher,
organizations have implemented 3X more deliberate leadership development practices.
Two groups present the greatest opportunity for immediate impact on any organization's leadership rating:
First-Time Managers—this group drags the overall quality rating down more than any other group.
Senior Leaders—this group has the most impact on long-term leadership, especially in companies that promote from within.
There are 4 consistent and repeatable standard practices that top-performing organizations use to gain leadership traction: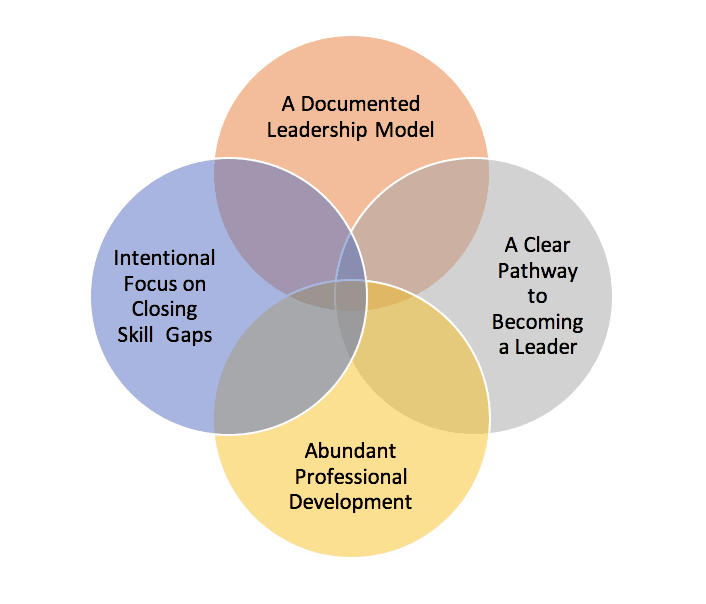 A Documented Leadership Model. Top-performing organizations know the attributes they want their leaders to have.
A Clear Pathway to Becoming a Leader. In the best organizations, these attributes are widely known. The path to management is clear, success is encouraged, and burn-out is avoided.
Abundant Professional Development. These organizations offer significantly more and better types of development opportunities and methods.
Intentional Focus on Closing Skill Gaps. Top-performers take a highly individualized approach in converting weak areas to strengths among their management ranks.
About this Study
We surveyed over 500 respondents at 100+ organizations of varying sizes and across all industries, then compared organizations with top-rated leaders (the "top performing" 15 percent of leaders from our study) with those organizations rating leaders as average or less able.
We used this performance separation to guide and answer the following questions: Is there a difference between how organizations with top-performing leaders treat leadership? Is it obvious, consistent, and repeatable?
Explore our research and read our discoveries by downloading our whitepaper.

About Leadership Choice
We work closely with our clients to deliver effective and pragmatic training for their employees no matter where they sit. Based on any organizational footprint and our flexible delivery options, we are uniquely qualified to address the challenges inherent to distributed organizations, diverse learning populations, and more/less access to technology.
We help clients create a sustainable talent pipeline—one where internal promotions have the strongest support to become world-class leaders.
Together, we embrace the idea that your people are the single biggest factor in employee and client engagement, financial performance, and long-term sustainability. And together, we will create good leaders and deliver unprecedented results.